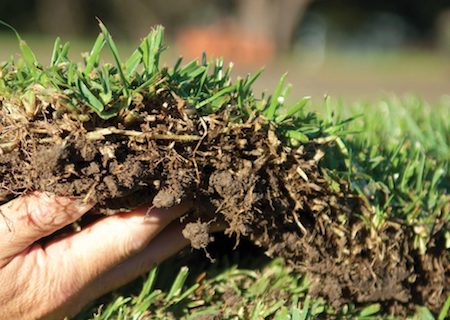 All the information you will need in order to transform your yard or garden with turf.
From planning to installation, Cobbitty Turf provides support each step of the way. Below, you will find more information about each step required in the lawn installation process, including measuring the area, soil preparation, laying the new turf, watering, care and maintenance, and our installation and delivery services.
1. Preparing the Soil
One of the most important factors to a lawn that thrives and lasts is having good base. Every lawn should be laid on a bed of the right kind of soil for your area. Learn what soils will work best and what other soil preparation you should do before laying turf rolls.
2. Estimating Turf Quantities
Estimating how much soil and turf sod you will need is the first step toward a new lawn. It will require your measuring tape and some paper. Learn how to create a sketch of your planned lawn and some simple formulas to calculate how much you'll need.
3. Laying Turf Rolls
Laying your turf is the fun part of getting your new lawn. The visual effect of before and after is dramatic! Learn how to do it right so that the roots grow well and you don't get any nasty patterns or rivulets in your lawn.
4. Watering
Grass loves water, and it's especially important in the first weeks to let the roots establish. Soil must be kept moist for the initial 7-14 days. Learn about how much and when to water your new lawn, and what to watch out for.
5. Care of New Lawns
When can you start mowing? How low should you go then? What about fertiliser and other treatments to get your lawn the best start? You'll learn all this and more in our care for new lawns section.
Turf Installation Service
If you don't have time or the confidence to lay your own lawn, we have turf laying experts that can take care of the installation for you. Read about the process for getting a new lawn installed by the experts and make your installation booking.
Turf Delivery
We deliver to many areas, including Wollongong, MacArthur, Sydney suburbs, Southern Highlands, Illawarra, Campbelltown, Liverpool, Blue Mountains, and lots more. Find out more about our delivery schedule and other considerations.
Have a question about grass?