How to Prepare Soil for a New Lawn
Creating the ideal foundation for your new lawn to thrive.
Preparing the soil is an important step in laying a new lawn, in order for the turf to take root, the area should be free of weeds and have well prepared soil. 
A successful lawn also needs drainage, for the best outcome, ensure the soil gradient slopes away from housing foundations or pathways.
Clear Weeds
Use a non-selective herbicide to clear all the weeds from the area to be turfed.
If you are removing existing turf, you should still follow this step in case of any remaining weeds are present in the soil.
How should I remove the weeds?
Weed removal can be done by using a non-selective herbicide, such as Glyphosate or Round-Up.
Ideally, the weeds should be sprayed 7-10 days before you remove them.
Cobbitty Turf stocks a range of weed killers and herbicides.
Excavation and Soil Improvement
If the area requires excavation, this should be done after any herbicides have taken effect.
For clay based soils, apply gypsum before rotary hoeing.
For sandy based soils, apply organic matter or compost with coco peat.
Turf Underlay
Rotary hoe, or cover the area with a good quality turf underlay, with a composition of 70% sand to 30% soil to a minimum of 50-100mm deep.
How do I work out how much soil is needed?
The amount of soil you need can be easily calculated using the formula (area x depth x 1.6).
You should have worked out your area already to order your turf, multiply this by the depth of the soil, and then multiply by 1.6.
For example: 65m2 x 0.05 (50mm) x 1.6 = 5.2 tonnes of soil.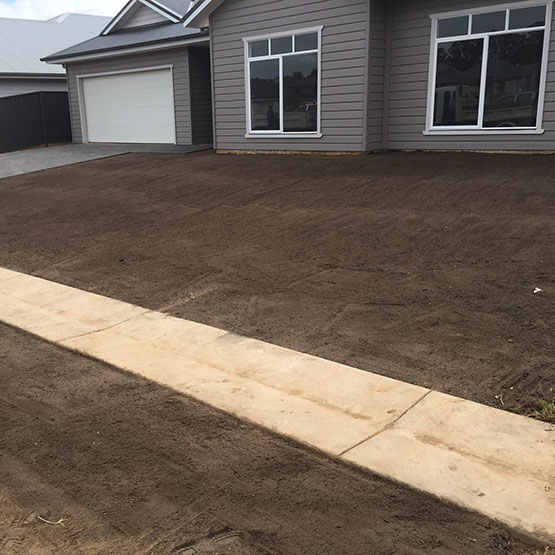 Rake the Area
Rake the area to a fine, smooth finish.
We recommend you apply the Sir Launcher fertiliser at this point, at a rate of 3kg/100m2 or 900gm/30sm2, and rake through the top 30mm.
What is Sir Launcher?
Sir Launcher is a premium water saving starter fertiliser with nutrient accelerator for healthy root growth and is recommended to give your lawn the best start possible.
Sir Launcher can be purchased from Cobbitty Turf when placing your turf order.
Have a question about grass?