For best results, lay turf in a brick pattern, making sure not to leave gaps or overlap.
Your new turf should be laid as soon as possible for the best result, use a brick pattern for the neatest result and remember to water your new lawn regularly to help the roots grow.
Avoid heavy or concentrated use of your new lawn in the first few weeks after laying, this will allow the roots to firmly knit with the soil, giving you a bump free, firmly rooted surface.
How Long Can I Leave My New Turf Before Laying?
The sooner it can be laid, the better!
On hot days, when temperatures exceed 30ºC, the turf should be laid as soon as possible, and immediately in severe heat.
Cooler days will give you at least 24 hours from harvest to lay your new turf.
If the turf needs to be left for a long period, ensure the rolls are kept in the shade and remove the plastic wrapping so the turf doesn't sweat. The turf does not need to be watered while on the pallet. Water as soon as it has been laid.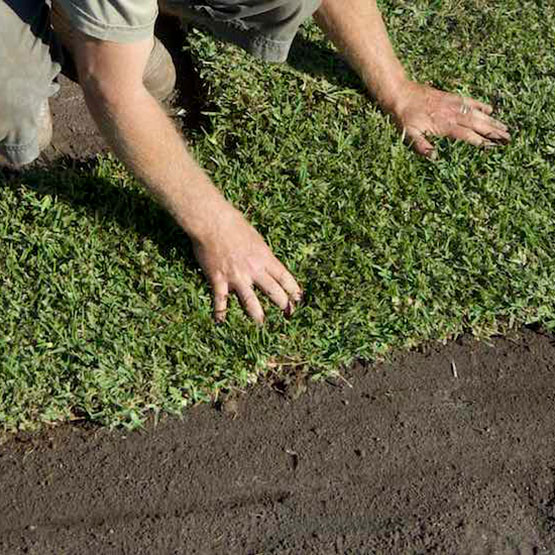 Start at the edges
Begin laying your new lawn around the outside of the area to be turfed, against pathways and along garden edges, to form a border.
Continue by laying across any slopes you may have, trimming excess turf at the border along the outside, using a knife or spade.
Use a Brick Pattern for a Neater Finish
For the best finish, turf should be laid in a brick pattern, making sure all edges are pushed tightly against each other.
Remember not to stretch your turf, leave gaps or overlap pieces.
For larger lawns, we recommend you complete small sections by rolling turf as you go, to allow watering to begin.
Water Your New Lawn
Within 30 minutes of installation, you should give your lawn at least 25mm of water. It is important that no corners or areas of the turf are missed. Make sure that all sprinklers overlap.
Depending on the weather conditions, keep watering. The turf and soil should be kept moist until firmly rooted.
Be sure your new lawn has enough moisture to survive hot, dry or windy periods, and do not let your new turf dry out!
How much water does my lawn need?
A new lawn should not be allowed to dry out during the first couple of weeks to ensure the roots have properly knitted with the soil.
After about three weeks, the turf should have taken root, and will require less frequent and deeper watering.
For more information on watering, please refer to our Watering page.
Check on Your New Lawn
Check the turf by carefully lifting in areas and checking for moisture and new roots. Once the turf cannot be lifted, watering can be spaced out to once or twice a week, depending on weather conditions.
Is New Turf a Good Option for a Patchy Lawn?
Laying new turf is one of the easiest and cost effective ways to deal with a patchy lawn. Watch the video below to see how you can improve a patchy lawn with new turf.
Have a question about grass?