About Cobbitty Lawn Turf Sydney
Sydney's favourite Sir Walter Buffalo grass supplier.
Cobbitty Turf is family owned and operated, and has been growing quality lawn turf for over 30 years. The experienced staff can assist you with turf variety selection, lawn preparation and maintenance advice.
We are based in Cobbitty, which is near Camden and supply turf throughout these areas:
Sydney
Illawarra
Southern Highlands
Blue Mountains
As an accredited LSA grower, all the turf that leaves the Cobbitty Turf farm is backed by an industry first 10 year product warranty.
With every lawn sold, Cobbitty Turf offers lifetime support, so if you have any questions about your lawn, give us a call and we will happily advise you on the best possible solution.
We are committed to environmental care to proactively manage our interaction with the environment by establishing standards of environmental excellence. Read our environmental care policy to know about us.
Our services include
Turf supply for both residential and commercial projects
Before and after sale information and support service
Turf installation and maintenance coaching
Forklift delivery and laying service
Lawn Solutions Australia Certified Grower
10 year product warranty
AusGAP Certified
Geoff Hatton Jnr
Manager
I am known as Young Geoff. I am a proud 2nd generation turf farmer and sports field constructor. I love what I do and it's not unusual to find me delivering your turf or answering curly questions for anyone who needs help.
Geoff Hatton
Owner
"Pride and passion won't let him retire. After 50 years of growing great grass he will talk to you for hours about anything grass, just not on golf days." – Young Geoff.
Danni & Jenny
Office - Sales
You will usually get us on the phone when you ring in. Ask us lots of questions, as we want to help you make your lawn the focal point of your home which you can be proud of.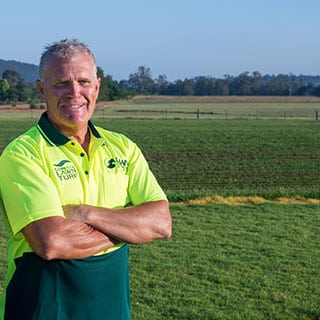 Mick
Delivery Driver
This is the guy you will usually see delivering your brand new lawn. He has a huge care factor and is always willing to go above and beyond to get your delivery to you. No delivery is too big or too small!
Simon
The Production Team
Simon, with over 10 years of experience in growing quality turf, leads a great group of guys named Alby, Scott and Jake. They are passionate about growing and harvesting every metre of grass so that it's in pristine condition for your new lawn.
Top supplier of Sir Walter DNA Certified Turf
There are so many reasons why Sir Walter is Australia's No. 1 buffalo grass. Sr Walter DNA Certified Buffalo Grass has stood the test of time, proving time and time again that it will go anywhere and grow anywhere; in full sun, in shade, in extreme heat, in frost, and in drought.