What is the Best Type of Mower for Sir Walter?
The best type of lawn mower for your Sir Walter is going to be the kind of mower that suits you and your personal needs, as well as your lawn's conditions.
The best type of lawn mower for your Sir Walter grass is going to be the kind of mower that suits you and your personal needs the best, as well as the situation for your lawn.
For example, are you after a mower that requires as little effort as possible to use, one that has powerful performance, one that has a good range of height settings, or perhaps you are after something that is eco-friendly? Or perhaps your Sir Walter grows in full sun, so it's really thick…  or it's in part shade and is less dense?
The right mower is worth the investment, because if we don't enjoy or get satisfaction out of mowing, our poor beloved Sir Walter lawns may start feeling a little bit of neglect!
But with so many options, how will I pick the right mower?
We know all too well that buying a new lawn mower that's perfect for you and your lawn can be a complete minefield – with so many types, varieties and brands on the market these days!
Should you pick petrol or electric? Hand or ride on? Rotary or cylinder? Self-propelled? Which is the best? And which is good value!?
Mowing thick lawns like Sir Walter Buffalo
Sir Walter DNA Certified has a dense growing habit, which is awesome for keeping out the weeds. It also makes for that lush appearance we love about our Sir Walter Buffalo lawns.
The thickness of your lawn depends on how much sun it gets and how long it's left to grow. The thickest lawns are left to grow longer and are in full sun. In general, a more powerful mower handles a thick lawn with less effort. It's probably best not to let it get too long, as this can lead to fungus infections.
In this article, we cover some of the best mowers on the Australian market in 2019 and how they are suited to mowing Sir Walter. Let's start with the unpowered and work our way up… 
Unpowered push mowers
Unpowered, hand push mowers are a good option for smaller Sir Walter DNA Certified lawns but they will obviously give you more of a physical workout, especially if you've got a lawn that you let grow a little long.
You'll also want to keep the blades sharp and mechanics lubricated, or they can become hard to push.

Relatively inexpensive, unpowered push mowers can make you feel good about your decision as with regular use they will make you fitter. They are great for the environment, leaving no trace of a carbon footprint behind.
We recommend the Masport Cleveland 18" Hand Lawn Mower, which you can buy from All Mowers.
The Masport Cleveland unpowered push mower is simple to use and perfect for small, flat Sir Walter lawns that require minimal effort to keep trim and maintained with a precision cut.
The Masport boasts a 460mm cutting width, and a 13-56 mm cutting height, (important for healthy Sir Walter) as well as a lightweight fabric catcher that's easy to remove and empty.
The 'best value' unpowered push mower
For a 'best value for your money' option, we recommend the Victa 16" Razor Cut Push Mower, which you can buy from Victa.
The Victa 16" push mower is extremely affordable, and has a strong yet flexible structure that's ideal for catching those hard to reach areas of your lawn. This one even has an easy to use self-sharpening system that ensures a slick cut for a manicured lawn!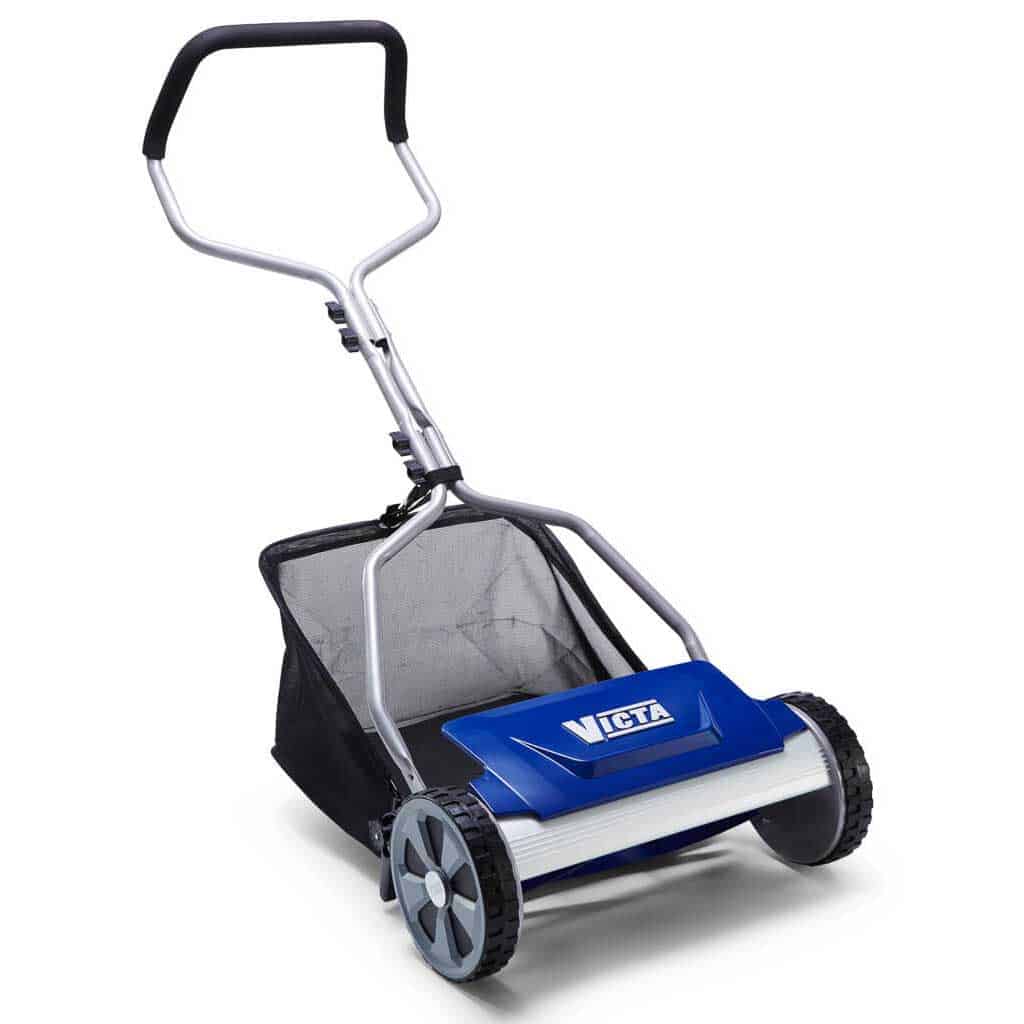 Corded electric mowers

One of the most convenient electric lawn mowers that we can recommend for maintaining your Sir Walter DNA Certified turf is the Ryobi 1600W Lawn Mower.
This reasonably light and portable mower, features five easily adjustable height points, and easy fold handles for convenient storage.
The Ryobi 1600W is the perfect mower for tough to tackle small Sir Walter lawns! Thanks to its impressively powerful 1600W motor and 360mm deck width, it provides an extremely convenient way to maintain your Sir Walter DNA Certified lawn to the best of its appearance.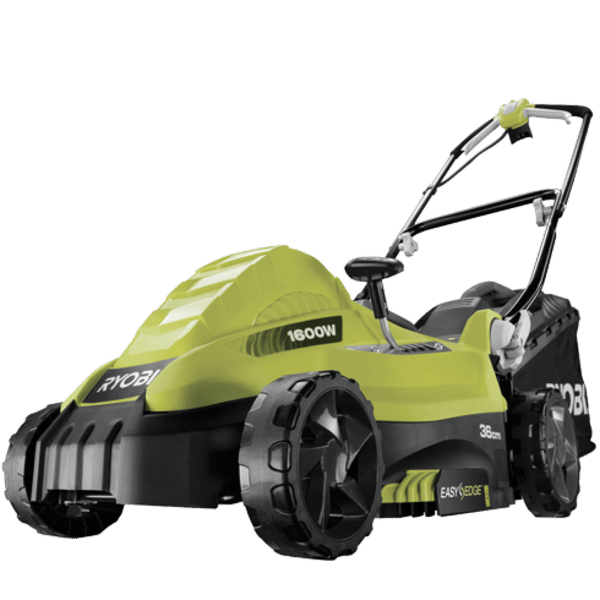 The 'best value' electric lawn mower
The Ozito 1000W Ecomow Electric Lawn Mower is available from Bunnings for an extremely modest $99!
The Ozito 1000W Ecomow Electric Lawn Mower offers excellent agility for a thorough sharp cut of your Sir Walter lawn, no matter its condition.
A lightweight, low-maintenance machine, it offers the utmost convenience for usage and storage, and features a 1000W motor – powerful enough to give your Sir Walter a beautiful cutting result, whilst maintaining efficiency.

Canstar Blue named Ozito the only brand to earn five stars for value for money in its customer satisfaction ratings.
Battery powered electric mowers
For one of the most powerful cordless lawn mowers on the Australian market, we recommend the AEG 58V Brushless Lawn Mower Kit, which you can buy from AEG Powertools.

This electric mower is excellent for small to medium sized Sir Walter DNA Certified lawns, and is extremely convenient thanks to its battery power that means it's totally cordless for a smooth lawn cut.
Due to its advanced battery technology, the AEG 58V provides a more powerful performance over a longer lifetime.
What's more, it even features 'load sensing technology' for greater power against tougher cuts, and has a maneuverable design for ease of portability and storage.
The best 'self-propelled' lawn mower
A 'self-propelled' mower is the perfect option for you if you require less effort and strain when mowing your Sir Walter turf.

The Ryobi 36V 5.0Ah 20" Self-Propelled Lawn Mower  which you can buy from Bunnings, offers the ultimate lawn mowing experience, thanks to its 'state of the art' technology that provides an extremely powerful mow for your beloved Sir Walter!

From this machine you can also expect a variable speed option, an increased runtime before recharging and height adjustment to allow for a variety of cutting heights, which is a great feature for your mower to have if you have Sir Walter grass.
Petrol mowers
The benefit of petrol mowers is that they provide more power than electric mowers, and can run for longer than cordless electric mowers.

The 'long-lasting' and 'powerful' petrol mower.
For a long-lasting and powerful mow that will provide premium results for your Sir Walter, the Masport 550 AL 2N1 Cut, Catch & Mulch Petrol Lawn Mower which you can get from Bunnings is the perfect option for you!
With aluminium casing that is resistant to rust, its super-powerful 625EX engine, this is a fantastic petrol lawn mower that boasts both performance and resilience, for years of premium Sir Walter lawn cutting results.
The 'silent and efficient' petrol lawn mower
The Honda 21" (530 mm) Self Propelling Lawn Mower which you can also get from Bunnings is worth the extra few dollars!
This premium petrol lawn mower features Clip Director Mulching and has the extra 'oomph' required for larger Sir Walter DNA Certified lawns that need powerful performance.
You might require this type of extra-powerful mower particularly if your Sir Walter grass is in full sun, and experiences rapid growth.
Not only does the Honda 21" offer brilliant mow results, it also features 'whisper quiet' operation and low fuel consumption that doesn't require fuel mixing.
Ride on mowers
A ride-on mower may be perfect for you if mowing your Sir Walter DNA Certified lawn currently takes you more than two hours!
The 'excellent value for money' ride on lawn mower
The Masport Mini Rider, available from Mitre 10 is a ride on petrol lawn mower that is comfortable and fast, great for larger areas of Sir Walter lawn that require a precise cut.
The Masport Mini Rider features a reliable Briggs & Stratton 190cc electric start engine, and a 24" steel side discharge cutting deck that doesn't require tools to remove, to ensure efficient mowing.
This compact, easy to store ride on mower also has six speed options and a steel bumper, making it a heavy duty machine that's ideal for large Sir Walter yards.
The ultimate 'no expense spared' ride on mower
Now this one is for the serious Sir Walter lovers!
Classed as a 'lawn tractor', the Victa 22HP Zero Turn Petrol Lawn Tractor, is available from Bunnings Warehouse.
'Lawn tractors' offer even more powerful engines, and wider cutting decks, perfect for extremely large DNA Certified Sir Walter lawns. The Victa 22HP Zero Turn Petrol Lawn Tractor is one of the best ride on machines on the market.
Unlike other large ride on mowers which don't allow a tight turning circle, this model features agile 360 degree turning, that enables you to easily glide round objects including trees and hedges, also helping to reduce time!
With its high performance Briggs & Stratton Intek V-Twin engine, you're guaranteed an extremely powerful mow of your Sir Walter grass, as well as a ride on mower that will last you many years of top-notch lawn mowing!
So that covers mower types, but what about rotary vs cylinder?
Rotary vs Cylinder
We know people who use cylinder, and others who use the more common rotary mowers, and both have perfect Sir Walter DNA Certified lawns.
So, what is the difference between rotary and cylinder?
Rotary
Rotary lawnmowers use blades that rotate on a vertical axis, typically propelled by either petrol or electric engines.

Rotary lawn mowers cut your lawn with fast rotating blades, usually with two but sometimes more, and the blades 'chop' at your Sir Walter as they rotate.

Rotary mowers will work best on a medium to high cut.
Cylinder
A cylinder mower uses a completely different cutting action to a rotary mower. Cylinder lawn mowers, also referred to as reel-mowers, use blades that cut on a horizontal axis.

An advantage of cylinder mowers is the ability to cut very short without loss of cut quality. A quality cylinder lawnmower can cut as low as 3/16", without deterioration of cut quality.
With all of this in mind, we suspect that you will now be much better equipped to make the big mower decision!
Happy mowing!
For more tips and advice on mowing your Sir Walter DNA Certified lawn, please don't hesitate to contact our friendly team on (02) 4651 0000.