On-Trend Lawn Edging Options!
Whilst lawn edging is a functional addition to prevent your grass from infiltrating your gardens, it is also important that it looks great as well!
We know how much effort you put into making your lawn look spectacular. But, how does your lawn edging match up? If the sides of your lawn are sitting un-edged, then this is a huge missed opportunity! Lawn edging complements your finish and adds value to your yard.
The function behind lawn edging
 It is more than just completing your lawn in an aesthetically pleasing way, lawn edging options are there for good reason!
Lawn edging plays two crucial functional roles:
Edging prevents your lawn from entering your garden beds, and vice-versa

Edging provides a surface to trim against for easier care
Is lawn edging hard to do?
The good news is – no! You will be surprised how easy lawn edging is to do!
With so many different options available on the market these days (even DIY options), lawn edging has never been easier to implement!
How do I know what material is best to use to edge my lawn?
Your choice of lawn edging material will hinge on many factors, including:
Whether you are edging a straight or curved lawn area (particularly if curved, what kind of material will be the most manageable for you to put in)
Whether your area to be edged is large or small (and again what kind of material will be most manageable to implement)
The kind of edging materials that will suit your garden design and/or outdoor spaces
Your budget
It is also important to keep in mind that your choice of edging material should make it easy for you to use a whipper-snipper (and mow) to ensure that the finish is clean, neat and one that you can be proud of!
So, what are my on-trend lawn edging options?
There are so many different material options that you can use these days to give your lawn 'the edge' that it deserves! Trends come and go, but the beauty of lawn edging is that hard borders can be made from virtually anything, you're only limited to your imagination!
Whichever material you use, try and make sure the barrier is sunk deep enough into your soil to help limit your grass from growing underneath it.
If you're on a budget
For a lawn edging option that won't cost you a cent (just a little elbow grease), try an 'English border'. This is simply a shallow ditch dug between the edge of your lawn and your garden edge.
It's quite easy to dig out and maintain, with weeds and grass runners easily spotted in the ditch which you will be able to either trim or spray out.
Another low budget option is plastic. If the primary purpose of your lawn edging is to stop your lawn from invading your garden beds, then a plastic barrier can be a good cost effective option that works well around a curved area too.
The only 'cons' of plastic lawn edging are that it doesn't look amazing, and can sometimes work its way out of the ground as it goes out of shape due to sun driven expansion. Plastic lawn edging will work best as a divider if you ensure that the plastic edge is almost entirely buried and therefore less susceptible to deformation.
There are some great low cost plastic edging options available from Bunnings Warehouse, such as their Corrugated Plastic Garden Edging.
For an industrial look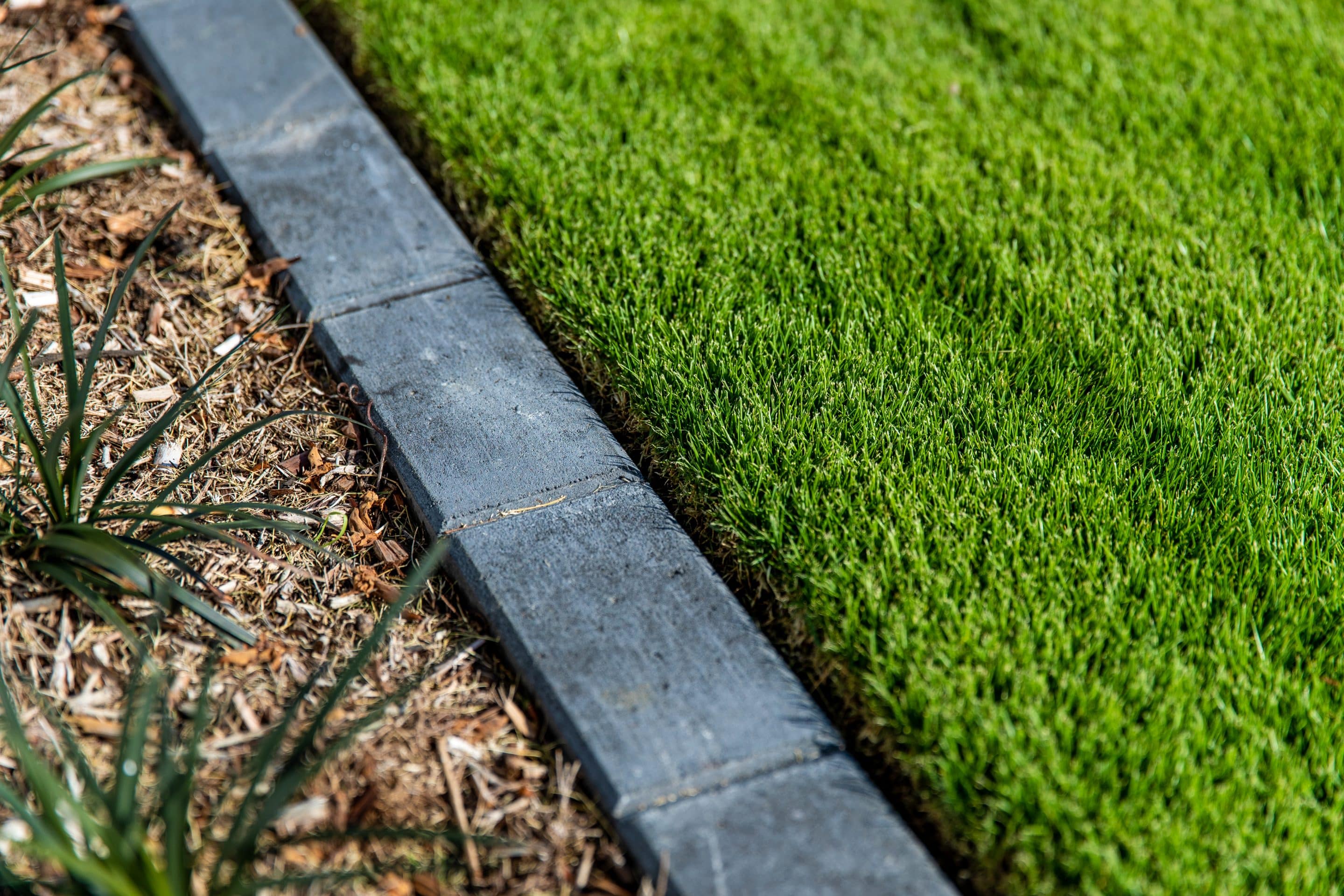 'Industrial' is a 'buzz word' in the design world right now, because it provides an extremely raw, modern statement making look. But, the other fantastic thing about this trend is that it makes use of recycled materials in a beautiful way.
For industrial look lawn edging, a simple yet effective options is to use pavers or bricks to create a nice solid barrier between your lawn and your garden bed.
Pavers and bricks are a common option as they are super easy to use to create lawn edging from, but also because often people have a fair few of one of the two left over from their home build or renovations.
If budget allows.. try concrete!
Prefabricated concrete edging is available, however this can be limiting if you need a bit of flexibility in working around an irregular shaped lawn.
If your budget allows, there are Landscapers and specialised concrete kerb installers who can mix concrete and the mould in the shape or angle required using a concrete kerbing machine.
The good thing about professionally installed concrete edging is that apart from it being an extremely strong, long-term option, there are also several different finishing options and colours available to suit your garden.
For a modern rustic look
Another 'buzz word' within the design world is 'modern rustic', and what better way to achieve this look than with metal!
Metal products are a great lawn edging option that work around curved perimetres, offer depth and provide a more permanent and visually appealing look to your yard.
The latest flexible steel lawn edging options like Whites Garden Edging Strip and Cyclone Corrugated Garden Edging, both look extremely 'modern industrial' and are one of the strongest and most versatile options.
The great thing about metal edging is that it handles sloping and curved areas well and is now much more DIY friendly than it was in the past. As well as being functional, metal lawn edging is a beautiful decorative element that will add a real focal point to your landscaping design. It will also complement other metal characteristics in your space such as metal roofing and pool fences.
For a natural yet modern look
Treated pine or hardwood timber sleepers can be used to create a beautiful natural look lawn edging, and work really well for straight lined areas. When using timber for lawn edging, just ensure that the product you are using is designed to last and won't quickly rot or deteriorate.
Or, if you still want the timber look in a curved edge space, try a product like Treated Pine Ezy Edge Garden Edging from Bunning Warehouse.
Try a retaining wall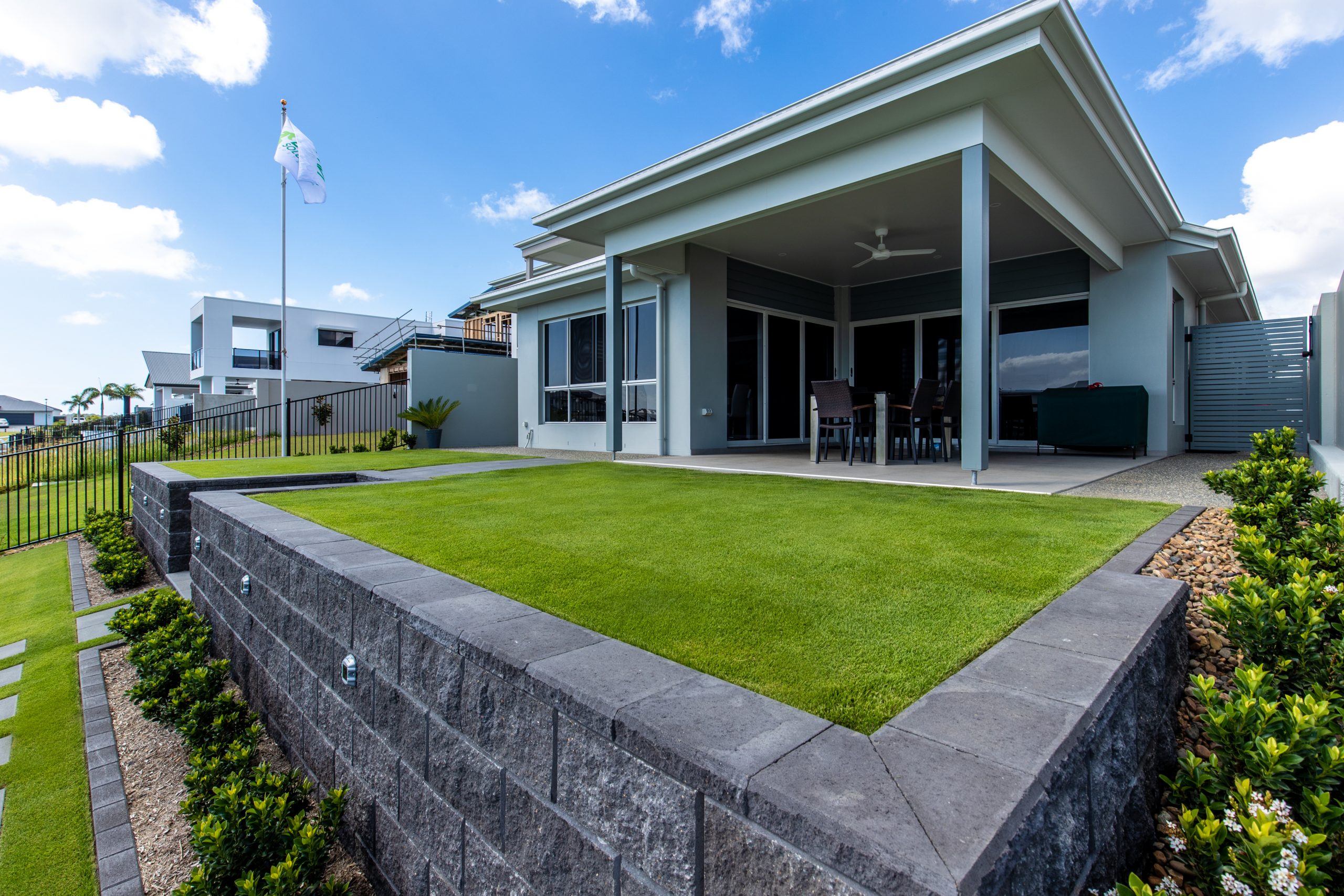 If you're game, for a more drastic effect, why not look at putting in a retaining wall or a raised garden bed that will add another dimension to your yard space. Different levels in your yard can better define your lawn or outdoor entertaining area, and you can get creative with finishes. Retaining walls can also help fix drainage or slope issues, and dramatically improve your lawn's appearance.
A retaining wall is one of those larger projects that you may not be inclined to take on yourself, so keep in mind that if you're looking at anything close to a metre or more in height, you'll need to talk to a licensed professional.
At the end of the day, the decision about the best lawn edging option for you will come down to practicality, price and your preferred aesthetic.
If you're still unsure, have a chat to your local landscape or garden shop, or give us a call here at Cobbitty Lawn Turf on (02) 4651 0000. Our friendly team are more than happy to provide advice to help you get the lawn edging result that you are after!