How to keep your lawn alive and thriving over the hot summer
You have a beautiful luscious green lawn at your Sydney home —perhaps you've invested in DNA Certified Sir Walter Buffalo Turf— but how do you ensure it stays that way over the Australian summer?
Let's look at our 5 top tips for loving your Sydney lawn over summer!
1. WATER: DEEPER SOAKINGS, LESS FREQUENTLY
It might sound counterintuitive but watering with deeper soakings, less frequently, will train the root system to become more self sufficient and robust over the long hot summer.
Of course you'll need to consider any local water restrictions, but giving the lawn a good soak maybe once a week will generally yield better results than a shallow water every day or every second day. Remember you're watering the roots, not the blades of grass themselves.
Remember a lawn wetting agent will help penetrate to your lawn's roots.
Mow your lawn over winter, but not as dramatically as you would over summer.
2. FEED: MAKE SURE YOUR LAWN GETS ALL THE NUTRIENTS IT NEEDS
Remember water isn't the only thing your lawn will need in order to thrive this summer. Using an appropriate fertiliser solution will ensure your lawn stays healthy, supporting growth of both the grass blades and the root system.
Some fertilisers need to be watered in straight after application so make sure you check the instructions before you get started!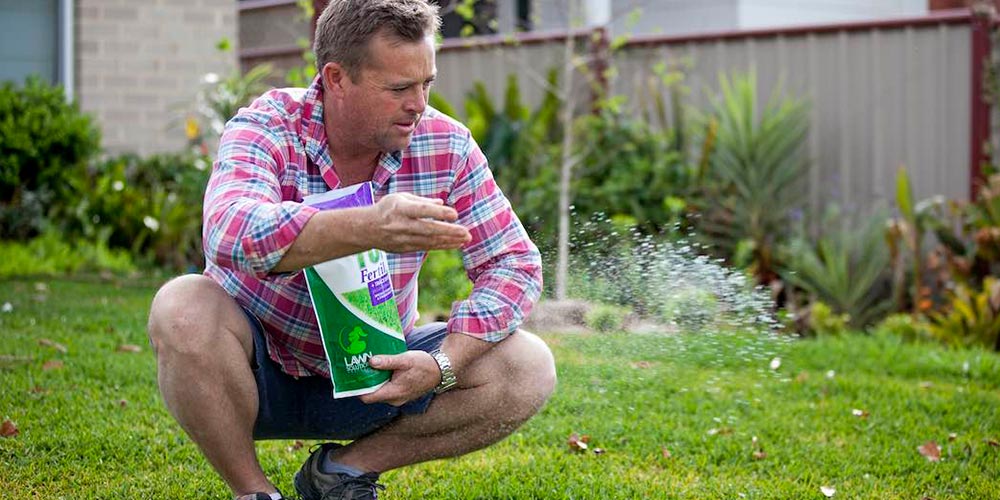 3. MOW: HOW LOW SHOULD YOU GO?
It's important not to remove more than a third of the leaf blade to encourage dense, healthy growth. Mowing too short can lead to stress and potential weed invasion. For buffalo lawns in summer, such as DNA Certified Sir Walter Buffalo, never mow below 25mm.
Select the proper mowing height for your lawn. Measure the grass plants after mowing a very small area, then adjust your mower as necessary. Always mow your lawn at the recommended cutting height. For instance, shift the cutting deck higher in drought conditions and allow grass to grow longer. Taller grass develops deeper roots, helping to withstand dry spells better. Cutting heights should be raised during cooler months to aid photosynthesis with longer leaves and to minimise weed growth.
Always mow your lawn at the recommended cutting height.
WHAT DOES YOUR MOWER SAY ABOUT YOU?
MANUAL REEL MOWER: 'THE HIPSTER'
Eco-friendly, low-maintenance, a weekend workout.
LAWN TRACTOR: 'THE OFF ROADER'
Large and in-charge, great on all terrains, not fussed by a big yard.
SELF-PROPELLED PUSH MOWER: 'THE REV HEAD'
Specced for max power, loud and proud, king of the medium yard.
CORDED ELECTRIC MOWER: 'THE QUIET ACHIEVER'
Quiet and efficient, gets rid of the hard work, loves small yards.
4. WEED: DON'T LET WEEDS TAKE OVER
Sadly weeds are a fact of life all year long, but you'll want to tackle them in summer particularly before the set seed and potentially spread through your lovely lawn. Remember mowing too low and a lack of nutrients can set up situations where your lawn can suffer and weeds can take over. While you can aerate your lawn and add top dressing during summer, it's better if you don't let the lawn get to that point!
5. SUNSCREEN: NO, REALLY, HEAR ME OUT…
You'd put sunscreen on yourself in this weather, so why not your lawn? A product like ColourGuard can help your lawn regain any lost pigment and help it look its best! Think of ColourGuard like a sun screen for your lawn —by screening out the harmful UV rays, but still allowing filtered light to hit the leaf blade. ColourGuard protects your lawn during even the hottest summer months.
After you have applied ColourGuard, be sure to allow at least 2 hours of direct sunlight for the pigment to absorb. If your lawn is in a shaded area you may need slightly longer. ColourGuard is a permanent colourant, so it will only disappear as your lawn grows. Once ColourGuard has dried, it will not run or fade after rain. It's locked into the leaf blade until it grows out!
The Australian summer can be a real 'scorcher'! A little maintenance with these five tips will help your lawn look its absolute best over the summer and beyond!
Why not purchase your very own DNA Certified Sir Walter turf or join the Cobbitty Club to learn more about how to get the best out of your lawn!
[wpsm_comparison_table id="1″ class=""]
Have a question about grass?